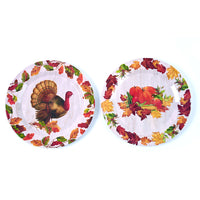 Thanksgiving-11" Harvest Blessings Round Plate, 2 Designs
$93.12
per case
Unit Price:$1.94
Case Pack:48
per case
SKU: HV776 FLOMO
Please note that as this is a wholesale website, freight charges will be added on at checkout. Customers purchasing from New York, New Jersey, and Connecticut will receive freight costs calculated to 15% of total order value. All other states will receive freight costs calculated to 18% of total order value. Thanks for understanding.
Units per Carton:48
Units per Inner Pack:12
Spanish: 11" Plato redondo de Acción de Gracias
Measures 11" - perfect for serving dinner or eating off of. Your entire family will love these reusable plates!

Materials: Melamine - reusable, shatterproof, and food safe! Using reusable plates for Thanksgiving dinner is a way to make the day eco-friendly and green.

You will receive both designs pictured. Plate designs feature turkey, pumpkin, and autumn leaves against a shiplap backdrop for a wonderful Thanksgiving look!

Buying dinnerware in bulk adds extra value for Thanksgiving! Serve appetizers or the main course on our beautiful plastic plates.

Your satisfaction is guaranteed! If you have any issue at all with our tableware products or service, please feel free to contact us and we'll be glad to support you immediately.