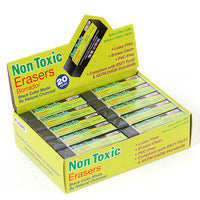 Nontoxic Natural Charcoal Eraser
$105.60
per case
Unit Price:$0.44
Case Pack:240
per case
SKU: MG1070D FLOMO
Please note that as this is a wholesale website, freight charges will be added on at checkout. Customers purchasing from New York, New Jersey, and Connecticut will receive freight costs calculated to 15% of total order value. All other states will receive freight costs calculated to 18% of total order value. Thanks for understanding.
Units per Carton: 240 pieces
Units per Inner Pack: 20 pieces
These magic non-toxic eco friendly erasers erase super clean! Great supplies for kids and the environment.
Each mini eraser removes pencil smudge, scribble, and marks cleanly with a dust-free effect. Great for artist and classroom use!
Latex-free and non-toxic erasers are safer for students and the environment, releasing no harmful fumes or chemicals that may impact growth. Each eraser is made with thermo plastic rubber polymer.
The clean finish of these erasers is perfect for exams, essays, and everyday writing.