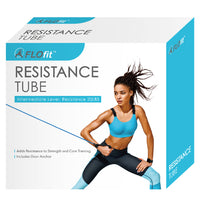 Flofit Intermediate Level Resistance Tube With Door Anchor
$204.72
per case
Unit Price:$8.53
Case Pack:24
per case
SKU: FF108 FLOMO
Please note that as this is a wholesale website, freight charges will be added on at checkout. Customers purchasing from New York, New Jersey, and Connecticut will receive freight costs calculated to 15% of total order value. All other states will receive freight costs calculated to 18% of total order value. Thanks for understanding.
Units per Carton: 24
Units per Inner Pack: 24
The FLOFit line features comprehensive fitness items for everyday use at home and the gym. Our resistance tube set features a band with two comfortable handles on either side perfect for stretching and toning core muscles. Set features a door anchor for solo workouts.
Our 20lb resistance tube is designed with your exercise routine in mind. Featuring a sturdy band with comfortable handles, it's easy to work out well.
Resistance tube is perfect for intermediate athletes and is suitable for core training as well as physical therapy.
This set features a door anchor that mounts the resistance tube on the wall for working out solo.
Great for exercising arms, legs, and for power training for weight lifting, our resistance tubes are portable gym equipment.
Collect all the other products in the FLOFit fitness line to create your own home gym!