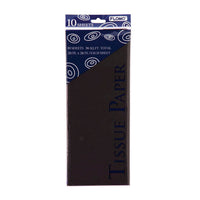 Black Gift Tissue Paper, 10 Sheets
$58.80
per case
Unit Price:$0.98
Case Pack:60
per case
SKU: TS1015 FLOMO
Please note that as this is a wholesale website, freight charges will be added on at checkout. Customers purchasing from New York, New Jersey, and Connecticut will receive freight costs calculated to 15% of total order value. All other states will receive freight costs calculated to 18% of total order value. Thanks for understanding.
Units per Case: 60 pieces
Units per Inner Pack: 12 pieces
10 sheet tissue paper features trendy, retail-ready packaging and high quality products for wrapping gifts tastefully and elegantly.
Our 14 GSM weight black tissue paper measures 20" x 20" and is folded in a short format to allow for extra space on shelves.
Tissue paper is perfect for accenting matching gift bags for birthdays, crafting, and all occasion use.
The perfect material for crafting - including creating tissue paper pompoms, tassel banners, and flower craft projects!
Our tissue paper comes in every color of the rainbow - make a statement in your store!