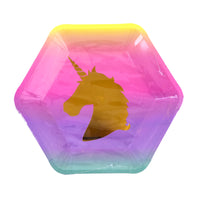 8Pk 7" Rainbow Unicorn Hexagon Plate With Hot Stamping
$65.16
per case
Unit Price:$1.81
Case Pack:36
per case
SKU: PW832 FLOMO
Please note that as this is a wholesale website, freight charges will be added on at checkout. Customers purchasing from New York, New Jersey, and Connecticut will receive freight costs calculated to 15% of total order value. All other states will receive freight costs calculated to 18% of total order value. Thanks for understanding.
Units per Carton:36
Units per Inner Pack:12
These fun pastel table decorations will bring smiles to every girl at your next birthday party!
7" features an ombre design with a gold foil hot stamping unicorn design.
Our cute plates are perfect for birthday parties, baby showers and even bridal showers for those who love the magical theme of unicorns!
Plates feature food-grade lamination and 300 GSM paper, as well as deep lips to hold lots of party snacks!
Match with our entire unicorn theme, including cups, napkins, party favors and more for a unique, dreamy, and magical experience!