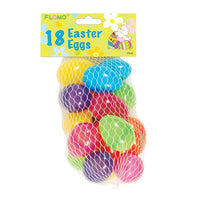 18Pcs, Glossy Easter Eggs 1.8" X 1.3"Dia.
$160.56
per case
Unit Price:$2.23
Case Pack:72
per case
SKU: ET640 FLOMO
Please note that as this is a wholesale website, freight charges will be added on at checkout. Customers purchasing from New York, New Jersey, and Connecticut will receive freight costs calculated to 15% of total order value. All other states will receive freight costs calculated to 18% of total order value. Thanks for understanding.
Units per Case: 72 pieces
Units per Inner Pack: 12 pieces
Our Easter eggs come in fun bright colors and are perfect for celebrating the spring holiday!

Great as Easter basket stuffer toys, these plastic egg party favors are empty, allowing you to fill with fun treats!
Kids will love to hunt through the backyard or classroom to find the prize inside these fillable Easter eggs!
Each pack comes with 18 Easter Eggs measuring 1.8" x 1.3". Great for creating baskets, crafts, or even to hang!
Boys and girls will love to receive these fun basket stuffers as part of Easter activities!
Our bright, fun Easter eggs are great for children's Easter baskets at Easter time! These empty eggs are fillable, allowing boys and girls to hunt for Easter eggs in the backyard or their classroom and find fun prizes! Perfect basket stuffers for kids!