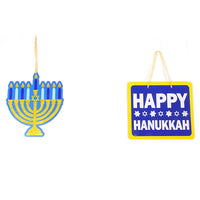 12"X10.5" Hanukkah Hanging Plaques With Glitter, 2 Designs
$81.60
per case
Unit Price:$1.70
Case Pack:48
per case
SKU: HK119 FLOMO
Please note that as this is a wholesale website, freight charges will be added on at checkout. Customers purchasing from New York, New Jersey, and Connecticut will receive freight costs calculated to 15% of total order value. All other states will receive freight costs calculated to 18% of total order value. Thanks for understanding.
Units per Case: 48 pieces
Units per Inner Pack: 12 pieces
These reusable Chanukah decorations will add religious touches to your home.

Designs include: Menorah and Happy Hanukkah. Your family will be glad to see these sign decorations appear in your home just in time for Hanukkah!

Measures 12'' x 10.5'' - these Hanukkah decorations are large enough to be seen from the street! Celebrate Hanukkah with these beautifully designed decorations.

MDF signs, made of medium density fiberboard, are durable enough to use year after year!

SATISFACTION GUARANTEED: We know you'll love these Hanukkah decorations. If you're not completely satisfied with your purchase, please feel free to reach out to us and we'll be glad to support you.