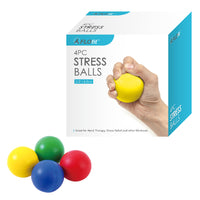 Flofit 4Pc Stress Balls
$151.44
per case
Unit Price:$6.31
Case Pack:24
per case
SKU: FF106 FLOMO
Please note that as this is a wholesale website, freight charges will be added on at checkout. Customers purchasing from New York, New Jersey, and Connecticut will receive freight costs calculated to 15% of total order value. All other states will receive freight costs calculated to 18% of total order value. Thanks for understanding.
Units per Carton:24
Units per Inner Pack:24
The FLOFit line features comprehensive fitness items for everyday use at home and the gym. Made of durable polyurethane, our stress balls are perfect for hand exercises, especially for those with arthritis or in need of physical therapy and rehabilitation.
This pack of four colorful stress balls are great stress relievers for office and home use as well as at the gym.
Fitness exercises with stress balls can be done for hand exercises and relieving anxiety while strengthening the muscles of the hand.
Stress balls come in four colors: red, blue, green, and yellow.
The soft polyurthane material is squishy and comfortable in the hand - perfect for kids, teens, adults, and the elderly.
Our lightweight stress balls can be used again and again in physical therapy too!