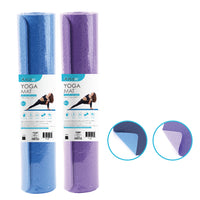 Flofit 2-Color Yoga Mat, 24" X 72" X 6Mm, 2 Colors
$192.54
per case
Unit Price:$32.09
Case Pack:6
per case
SKU: FF102 FLOMO
Please note that as this is a wholesale website, freight charges will be added on at checkout. Customers purchasing from New York, New Jersey, and Connecticut will receive freight costs calculated to 15% of total order value. All other states will receive freight costs calculated to 18% of total order value. Thanks for understanding.
Units per Carton: 6
Units per Inner Pack: 6
The FLOFit line features comprehensive fitness items for everyday use at home and the gym. Our yoga mats are no exception. Made of thick TPE, these mats are eco-friendly and slip resistant, helping you to exercise safely. Mats can be used for a variety of workout routines, including stretches, yoga, and pilates. 
Measuring 24" x 72", our reversible nonslip yoga mats are an essential item for home fitness use. Great for both men and women and beginner friendly.
Made of luxurious and thick TPE, this material is eco-friendly and provides a cushioned surface for a variety of workouts and poses.
Yoga mats come in blue and purple. 
Yoga mats are perfect for stretching, pilates, and any home fitness workout or yoga practice. Pair with our yoga blocks for an essential tool kit.
Satisfaction Guaranteed: We know you'll love our professional grade yoga mats. If you aren't completely satisfied with your order, please reach out to us and we'll be glad to support you.