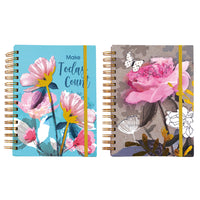 160 Sht 1" Heavy Brass Spiral College Rule Floral Hotstamp Journal,8.5"X6.25",2 Designs
$126.72
per case
Unit Price:$5.28
Case Pack:24
per case
SKU: MG8002 FLOMO
Please note that as this is a wholesale website, freight charges will be added on at checkout. Customers purchasing from New York, New Jersey, and Connecticut will receive freight costs calculated to 15% of total order value. All other states will receive freight costs calculated to 18% of total order value. Thanks for understanding.
Units per Carton:24
Units per Inner Pack:6
Measuring 8.5" x 6.25", this 160 sheet/320 page journal book will help inspire your mind with positive intentions. Each order comes with 2 metallic journal designs. The best value for your desk! Journals feature watercolor and floral art with inspirational designs. Great school supplies! These wirebound journals feature college ruled pages and printed interiors - heavy duty, thick journals are perfect for girls and women to keep organized. Get ready to achieve a goal with these beautiful motivational journals - perfect for students!