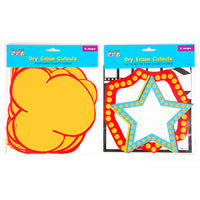 10Ct Dry Erase Movie Theme Cutouts, 6"-8", 2 Assortments
$67.68
per case
Unit Price:$1.41
Case Pack:48
per case
SKU: TB227 FLOMO
Please note that as this is a wholesale website, freight charges will be added on at checkout. Customers purchasing from New York, New Jersey, and Connecticut will receive freight costs calculated to 15% of total order value. All other states will receive freight costs calculated to 18% of total order value. Thanks for understanding.
Units per Case: 48 pieces
Units per Inner Pack: 12 pieces
Spanish: Recortes temáticos de películas para maestros
Perfect for decorating a bulletin board, door, or your whole classroom!

Movie-themed designs are sure to please your students. Tie them in with movie posters for a fun look!

Our dry-erase technology means these cutouts are compatible with most dry erase markers and erasing fluid - clean and use year after year! No lamination required!

Each cutout measures 6" to 8" tall. They're the perfect size for writing words, classroom rules, or even your students' names.

Your satisfaction is guaranteed! If you're not completely happy with your product, please contact us and we'll be glad to support you.